The global pandemic has taken a toll on both physical and emotional well-being. Using our MyEvive polls, we recently discovered some jarring insights on people's behavior change in the midst of COVID-19. Having asked them questions about general fitness, mental health, and other topics around general sentiment related to the crisis, we learned that:
47% of respondents are significantly less active as a result of the pandemic
25% are feeling physically healthy, but not so well emotionally
27% want more access to mental/behavioral health solutions
It's clear that people are craving support to boost their moods and health alike—in more ways than one. And this is a prime opportunity for employers to provide that support to their employees. As part of Evive's overarching efforts to help employers connect their workforces with helpful resources, we've made some tweaks to a popular MyEvive feature that our customers are leveraging for employees in these dire times: HealthQuests.
What are HealthQuests?
HealthQuests are interactive programs—based on in-depth academic research—that give people relevant guidance to start making healthy changes. Each HealthQuest is led by a friendly digital guide that provides encouragement and support with engaging lessons, ultimately to help people foster a particular habit, such as:
Reducing sugar or salt intake
Lowering cholesterol
Getting more sleep
Boosting hydration
Increasing physical activity
And more
These journeys can be completed in as little as four weeks or as long as eight weeks, allowing people to determine their own pace of behavior change.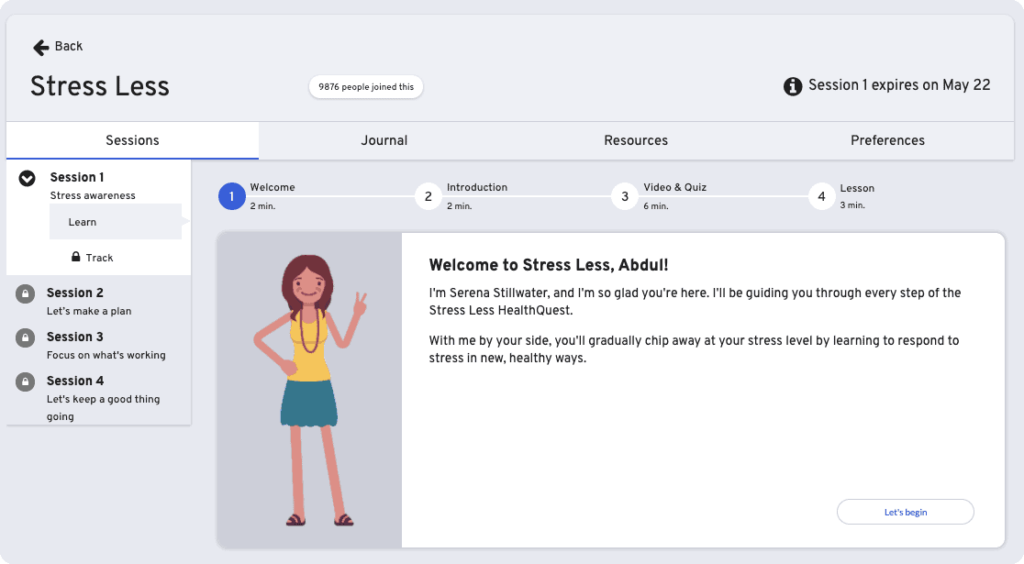 Why are they especially relevant now?
As we learned in our polling, people are currently faced with new behavior-change challenges that may not have impacted them before the COVID-19 stay-at-home orders. So now is a particularly opportune time to utilize Evive HealthQuests as yet another way to support population health, both mentally and physically, during these trying times.
Another reason this is key right now is many incentive checklist activities aren't being recommended during the pandemic (things like non-essential care screenings and so forth), so we want to highlight alternative ways to earn rewards while also promoting health-consciousness and positive habit change through at-home activities.
At-home progress
Some of our HealthQuests reference activities that contradict the shelter-in-place orders, so we've made the necessary adjustments to rebrand them as "At-Home Editions." These cleverly-modified experiences help people with their personal goals while staying compliant with the current world conditions.
Four new COVID-19-friendly At-Home HealthQuests were born out of this initiative. They address key needs that people reported from the MyEvive polls, like physical activity, healthy eating, mental health, and more. They're being promoted using relevant notifications (some of which tap into motivation with incentive checklist items), like the ones below:
Food Saver

Right now, we're eating at home a lot more than usual. If you're looking for ways to get more from your fridge and pantry, the new Food Saver: At-Home Edition HealthQuest has tips.

Core Confidence

Want to boost your core strength in just a few minutes a day? The Core Confidence: At-Home Edition HealthQuest has simple tips for strengthening without special know-how or equipment—and it can help you earn your incentive, too.
Some of our existing HealthQuests were able to remain the same, naturally complying with the stay-at-home orders. These programs address topics like mindfulness, sleep, stress, and hydration. To keep it simple for MyEvive users to access any of these HealthQuests, modified or not, they are able to filter through by choosing a primary goal at the start—which can be as specific now as building habits directly at home.

In this together
It's our hope that these at-home adventures will help people find healthy outlets for their anxiety, doubt, and worry caused by the crisis situation. When we saw findings from our surveys like, "3 out of 4 people feel 'moderate' to 'high' feelings of anxiety, stress, or sadness," we knew it was our responsibility to help people access positive experiences that could support mental health right now.
By creating experiences that support such behavior change within these tough circumstances, we can foster a stronger sense of community for everyone to get through this pandemic together.