Our people: driven by passion + purpose.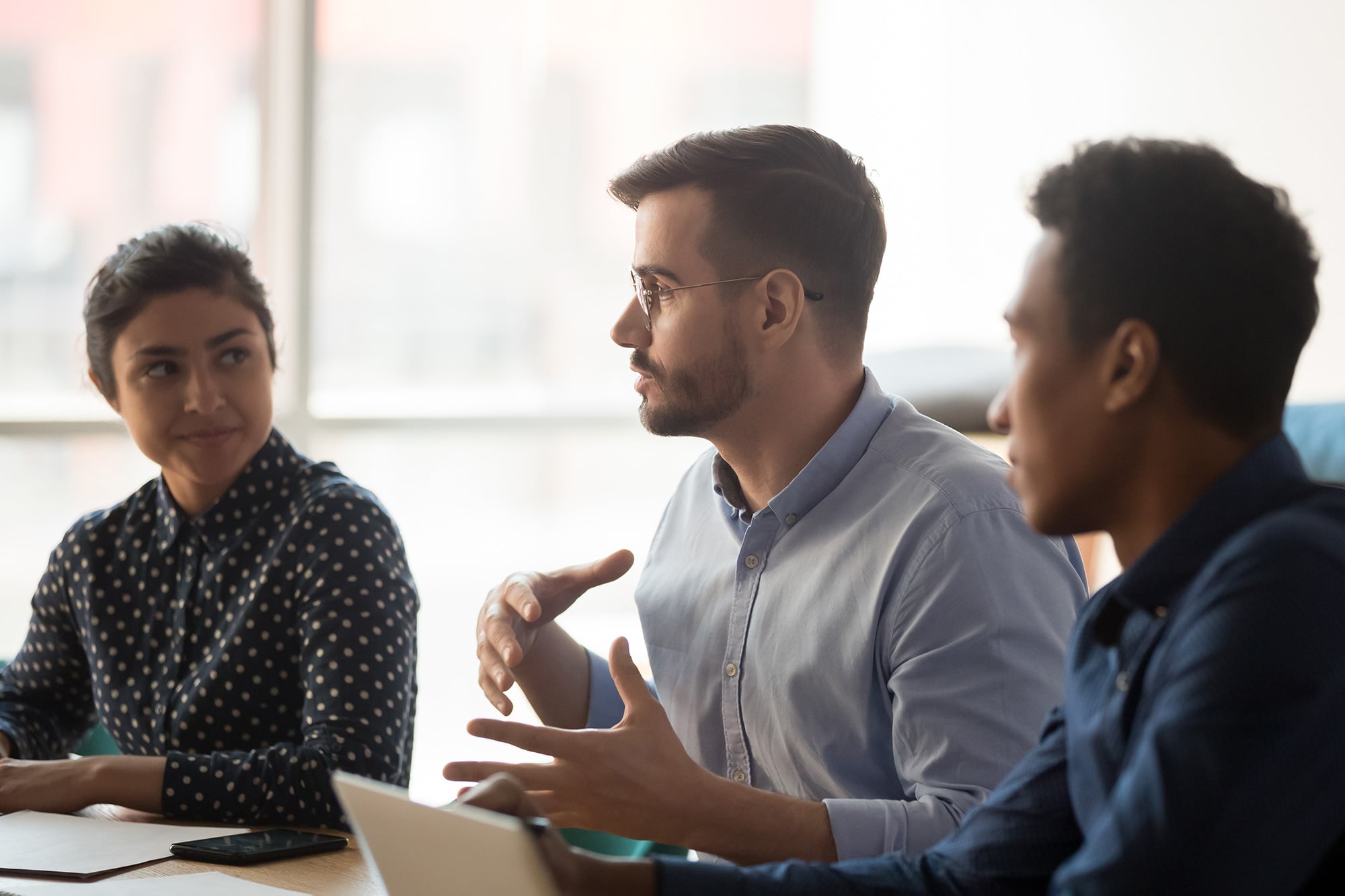 If you're excited about using big data to make a big difference, Evivers are your people. We're a special breed of creative thinkers, and thoughtful problem solvers. We're passionate about our own ideas, and encourage the ideas of others. We're driven to succeed, but not afraid to fail along the way. We're one team–supportive, collaborative, and imaginative–and together, we make lives better.
Our Values
At Evive, our founders' passion forms the foundation of our corporate culture and the principles that guide us. We call these core values "The Evive Way," and they define who we are and how we conduct ourselves as Evivers. As our co-founder Peter Saravis likes to say, how we do our jobs is just as important as what we do.
Integrity
Ethics, integrity and trust are paramount. At Evive, we say what we will do, and do what we say.

Inclusive
Evivers foster an inclusive community. Our diverse backgrounds and experience makes us a better company and people.

Respectful
Evivers have respect for people, new thoughts, ideas, and suggestions.

Mission driven
Wholeheartedly committed to delivering solutions that improve the lives of our customers and users.

Authentic
Evivers are our authentic selves and embrace each other for who we are.

Curious
Evivers are intellectually curious, passionate, and innovative.

Fearless
Evive encourages innovation, experimentation, and action-oriented problem solving.

Outcome oriented
Evivers take end-to-end ownership to develop and deliver solutions.

One team
Success at Evive is achieved when we collaborate and communicate as one.
Best-in-class benefits + perks
Evive has thoughtfully crafted a generous benefits package that supports Evivers' overall wellbeing and protects their physical, emotional, and financial health. For us, ensuring Evivers have access to the care and support they need isn't enough. We take it one step further by keeping those benefits affordable and covering the lion's share of medical benefits costs for both Evivers and their dependents. That's just one of the reasons why Evive has landed a top spot on Built In's Chicago "Best Places to Work" list for four consecutive years. Beyond traditional medical, dental, and vision coverage, benefits also include:
Tuition reimbursement
Paid parental leave
401(k) match
Flexible work environment
Annual fitness stipend
Pet insurance

Identity theft protection

Mentorship program
Free snacks and lunches
And more!
Chicago
If you're interested in becoming an Eviver, we offer a wide range of career opportunities at our Chicago corporate headquarters.
Bangalore
If you're excited about using big data to make big ideas come to life, explore the openings at our Bangalore, India office.
What our employees have to say
"Evive is a fabulous place, not just to start a career but also to grow and evolve as a professional. Thanks to the job rotation program, I was provided a chance to engage in interesting projects with other teams. With a supportive environment like this, I used the opportunity to increase my skill set and decision-making process.
Also, through the amazing Rewards and Recognition program, Evive recognized us for a lot of good work that we put in as individuals and as a well-knit team."
Manmitha Malineni
Data Analyst
"I was initially excited to join Evive as I have a huge passion for helping people utilize their benefits, and it was apparent I could accomplish this, while growing in my career. After all, my role was open based on another employee's promotion.
Additionally, as a person of color, it was important for me to join an organization as inclusive as Evive, where I have been able to see myself reflected at every level. As I have grown into my role, I have felt encouraged to pursue my interests and supported to explore internal roles as they become available. I am eager to see where this journey here will take me."
Jaime Rodriguez  
Customer Support Specialist
"While at Evive, I have been able to participate in the Mentorship program. Participating in the program gave me an opportunity to grow my interpersonal skills and foster relationships with upper management. Even once the program ended, my mentor has still been available, whether it is just for a friendly check-in or to discuss ongoing projects."
Nuriya Coke 
Client Services Manager
"Throughout my 5 years at Evive, I have always felt fully supported in my career goals. When the pandemic began, I started teaching myself how to code and realized I wanted to make a career change. Through Evive's mentorship program, and with the support of my manager, I was able to gain the experience I needed to move into a full-time software engineering position."
Hope Roeser
Software Engineer I
"As a fully remote employee, I truly appreciate–and value–the inclusive culture we have at Evive. Trivia events, company picnics, weekly lunch, and Slack channels where we recognize team members, or share photos of our families and 4-legged fur babies–all contribute to a culture of connectedness between us Evivers and our company. Leadership is committed to our health and job satisfaction, and they demonstrate that commitment in many ways–including our paid 'mental health' days that allow for Evivers to step away and recharge. I sure feel lucky to be part of this organization."
Candace B 
Solutions Consultant
"I have been with Evive for more than 4 years now, and this is a place where you can find opportunities to truly grow. I was able to experiment and choose a position that was the best fit for my career goals by transitioning from QA to a Product role. Beyond the learning and the opportunities, you have the creative freedom to express your thoughts and directly work with leadership."
Aarushi Sharma 
Product Owner
"My favorite thing about Evive's culture is collaboration. At Evive, there is no project that is too big or task that is too small for someone to chip in. We take an "all hands on deck" approach to ensure that we deliver quality for our customers, and that outlook is a testament to the teamwork that exists across our organization. Collaborating cross-functionality continually provides new perspectives and helps to develop a holistic understanding of how and why we do things. Plus, it makes every day exciting!"
Chris Ross
Director of Client Services
"Evive is like one cohesive family, where everybody knows each other, cares for each other and appreciates each other for their contributions. At Evive, your dedication and contributions never go unnoticed. My favorite part of Evive is the freedom to think outside the box, try out different solutions, and learn from our mistakes. We at Evive never shy away from trying new things."
Subhajit Podder
Associate Data Architect