Employee engagement was the buzzword of 2021. That's no surprise given the transformation in the workplace throughout the pandemic. Add to that wellness and mental health trends, work-from-anywhere flexibility, a new people-first management attitude, and the Great Resignation…it begs the question: is there an end in sight?
As a result, employees and employers continue to march forward and manage these changes. The question that remains, then, is how do they feel about these new realities and whether individual, team, and leadership expectations are genuinely aligned?
To find out, we ran our annual National Employee Journey survey in Q4 2021, using a nationally representative sample of 1,000 responses.[1] The survey provides employers a necessary reality check on perception versus reality regarding employee engagement throughout the employee journey. The results revealed some fascinating insights.
At the highest level, the research showed a disconnect regarding whether employers truly care about their employee's well-being.
According to the survey, 93% of employers felt their company prioritized employee well-being compared to 60% of employees. More than 17% of employees reported stress every day and more than 33% felt stress every week.
While it may seem easier to sit back and take the data with a grain of salt, understanding employees' perceptions about well-being and its impact on the workplace are critical to employee development, productivity, social connections, and coping with stress.
In 2022, employers will likely continue to enhance their employees' well-being and mental health programs to help keep employees and their families emotionally healthy.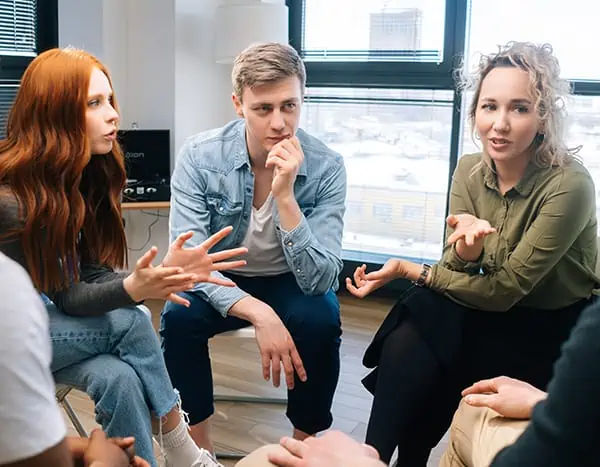 Addressing the Disconnect Between Employers and Employees in the Workplace
When it came to communications across the employee journey, the survey revealed that 94% of U.S. employers felt they were good at communicating with employees. Yet, only 61% of employees agreed. This disconnect can also be seen when diving into responses for each stage of the employee journey.
Getting Onboarding Right: Ninety-six percent of employers were satisfied with their onboarding process, while only 70% of employees felt the same way. Similarly, only 45% of employees felt their employer provided a personalized onboarding experience, but that number rises to 85% when you ask employers.
According to the Bureau of Labor Statistics, 38 million workers quit their jobs in 2021. Personalized onboarding is critical to fill vacant roles as the Great Resignation continues. Personalizing the experience by delivering relevant and usable resources to the right person at the right time on the right device shows new employees the company understands their needs, establishing trust, and forging a healthy relationship from the start.
Supporting Career Development: Ninety-five percent of employers said their company provides resources and opportunities for employees to develop professionally and advance their careers, but that number falls among employees to 66%, including 58% of baby boomers, 64% of Generation X, 74% of millennials, and 50% of Generation Z.
While an organization might have the resources to help employees enhance their skills and knowledge, is that company promoting and sharing them with employees? Employers need to take a personal interest in employee career goals by customizing training and development opportunities to meet their needs. HR should let departments know about what resources and ongoing opportunities are available to empower employees as well as increase participation and utilization of these resources
Inspiring Tomorrows Leaders: Ninety-three percent of employers felt their organization provided the right amount of training for new leaders compared to 49% of employees.
Transitioning into a new manager position is rewarding and challenging. You must apply new skills and knowledge, align expectations and priorities, and foster a positive working environment. But first, you need to find those new leaders. One of the most effective ways to identify high-potential employees is through surveys.
Surveys, especially when combined with a predictive assessment tool, are ideal for identifying and measuring leadership potential in employees. Then use personalized LMS resources to support manager development and growth.
Caring for Employees' Health: Employees would find it helpful if employers sent health screening reminders (61%) for themselves and their spouse (51%). More than 72% would like personalized recommendations on what health plan to pick.
Employee benefits are often underutilized because employees are unaware of the benefits or don't understand how to use them. In fact, in recent years, American workers left a record number of vacation days on the table last year—768 million days. Of these, workers forfeited 236 million days completely, equating to $65.5 billion in lost benefits, according to the U.S. Travel Association, Oxford Economics, and Ipsos.
Personalizing benefits communications improve utilization and engagement and help guide employees on what benefits to use at the right time, keeping employees healthy, reducing absenteeism, and improving workplace performance.
Promoting Financial Wellness: Only 15% of employees said their organization offered financial planning benefits, yet this benefit ranked as the third most desired (25%), behind a four-day workweek (56%) and flexible hours (34%). Other financial benefits employees want to see include student loan assistance (24%) and pet insurance (23%).
Finances are a major stressor. By offering financial wellness programs in the workplace, organizations can establish a more satisfied, engaged workforce, improve workers' financial security, and employees take control over their financial life.
Offboarding: While nearly 87% of employers felt their employees would be good future advocates for the company, only 43% of employees agreed.
Connecting the employee experience is more important than ever and should not stop when employees leave the company. Maximize offboarding by personalizing the process to thank departing employees for their hard work, late nights, and dedication. Strategic offboarding not only makes the departing employee feel good about the organization and helps them leave on a positive note, but aids in employee advocacy, creates a network of alumni advocates for future referrals, and welcomes back boomerang employees.
As another new workplace shift occurs, employers will need to identify new ways to align their strategy, culture, and talent to ensure everyone is working toward achieving common goals. In addition, employees will need to feel a strong sense of pride and belonging to stay and that their "version" of what's happening in the workplace aligns with management.
Are you interested in learning more about this research and how you can improve employee engagement in your organization? Access the entire research report.
[1] 1,000 respondents include, 500 full-time employees and 500 human resource representatives and senior leaders across industries and positions in the U.S.