Friday happy hour is a great way to unwind over cocktails and half-priced apps with friends and colleagues. With a global pandemic, maybe your drinking and eating bonanza is a virtual happy hour focused on team building, or celebrating an employee's birthday, or just enjoying a fun conversation. Now imagine taking these events to the next level.
Save the Date
That's right. Friday, January 28, is National Fun at Work Day.
You never heard of it? Let me enlighten you.
National Fun at Work Day falls on the last Friday of January. While Congress has not voted on it as an official holiday and no one knows who created it (while it wasn't me, I sorta wish it was), this "holiday" was created to foster happiness and humor in the office and bring employees together. It's also an excellent opportunity for HR to rally co-workers, bosses, and employees to celebrate and enjoy each other's company.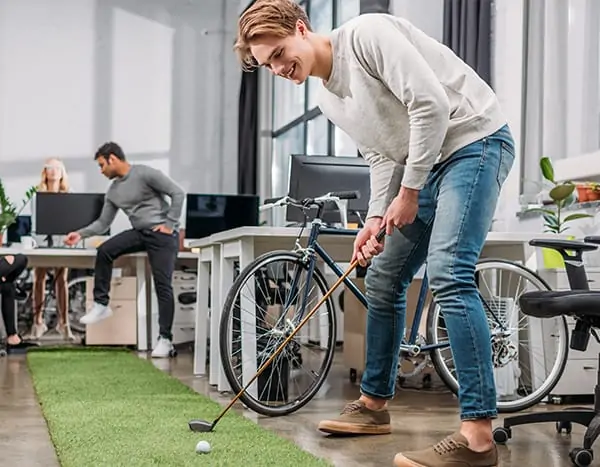 Why Celebrate National Fun Day at Work?
No matter the work location or size of your organization, National Fun at Work Day can help increase employee engagement.
In addition to employee engagement, National Fun at Work Day encourages humor, boosts employee morale, builds team camaraderie, encourages creativity and innovation, and fosters positive feelings. Similarly, laughter improves moods and creates better relationships.
National Fun at Work Day also creates a positive environment for yourself and your staff. A supportive workplace creates better communication and collaboration and improves employee well-being.
And let's be honest, if employees are dissatisfied and jump ship, especially during the Great Resignation, the turnover doesn't just negatively impact your bottom line – it leads to work-related stress in employees.
In fact, Evive's latest National Employee Journey survey found 17% of employees said they experience stress on the job every day, and 33% reported stress several days or more each week. An additional 16% experience stress several times a week, and 15% experience stress several times a month. A Fairleigh Dickinson University study discovered work-related stress costs U.S. employers $200 billion annually, not just in absenteeism but also in lower productivity, turnover, insurance costs, and more.
If employees are happy and engaged in their work, your organization is more likely attract and retain great talent. So how will your organization celebrate National Fun at Work Day to improve the mood, lower stress, and help employees have fun in a happy environment?
Break the Same Old Routine
Here are seven ways to break the same old routine on January 28 and celebrate National Fun at Work Day.
Game Day – Whether you schedule a game show extravaganza, conference call bingo, or good old-fashioned charades, playing games improves hand-eye coordination and brain function and enhances problem-solving abilities. Playing games is a great way to include your team around the globe, build social connections, and meet new people from different departments. Here at Evive I host quarterly, company-wide trivia – it gives us a chance to meet new employees and get away for a couple of hours.
Fit-N-Fun – It's challenging to fit exercise into a busy schedule, especially when you're working 9-to-5. A Harvard study showed that regular exercise is great for thinking skills. So for National Fun at Work Day, bring wellness to your team by incorporating a mix of classes such as yoga, Pilates, and kickboxing. After all, exercise is great for disease prevention, increases energy levels, and improves concentration.
Make Your Escape – A virtual escape room is a fun way to…escape An escape room is a game in which participants are "locked" into a themed room with their team and must solve riddles, puzzles, and clues to find their way out of the room before the time runs out. Last year we tried to escape (remotely) from the laboratory of a mad scientist. Luckily we survived and now highly recommend this collaborative effort where everyone must work together.
Make Super Bowl Squares New Again – Super Bowl Sunday is February 13, 2022, which means it's time to start thinking about your Super Bowl office pool at the end of January. Why not put a twist on it and kick it off on National Fun at Work Day? For example, set new rules such as winning via reverse score, allowing for squares to be traded once the template is complete, or adding both digits of each team's score for the win. Office leaders can match the winner's pot by donating the pool earnings to a charity of the winner's choice.
Incentives Win the Day – Who doesn't like to be recognized, rewarded, or receive a gift? Following in the footsteps of "Random Acts of Kindness," leaders can spend the day randomly giving out meaningful perks to employees. For instance, imagine an employee's face when a CEO volunteers to take an assignment off their to-do list. . If you're in-person and allow dogs in the office, bring in a dog walking service to let employees enjoy the day off – especially useful on a cold winter day. You can even plan a surprise "National Fun at Work" party bringing in lunch or delivering meals to remote workers.
Create a Space – Get a feel in advance for people's hobbies and transform an office or conference room to match employees' interests. For example, make one room an art room, one room for video games, and even one for music. Allow employees to take an afternoon break to spend time with their co-workers and enjoy a fun activity. HR supplies the materials and can even bring in outside experts to help run activities throughout the day.
Getting to Know You – If you have several new employees and are looking for a more scaled-back National Fun at Work Day, you can get the team together for a "Get to Know You" Q&A. You can drop fun questions into a hat, such as:
What skill or talent do you wish you possessed?
Make up a title for your autobiography.
What sound or noise do you love?
If you could be any cartoon character, who would it be and why?
Rank this list of favorite cereals from best to worst.
Employees pick and answer a question from the hat. These questions are lighthearted yet provide insight into the individuals you'll be working with every day. I know from experience that questions involving food rankings, celebrities, or super powers usually spark the most discussion and laughs.
Get Your Team Psyched Up
Now that you know the meaning and rationale behind National Fun at Work Day, and are armed with some lively activities, it's time to get your team fired up about this can't miss special occasion.
We know what comes next.
You don't have time to plan and organize these activities, communicate to employees, and play cheerleader to get everyone revved up to bring their A-game to these events.
That's where an automated communication platform comes in. Automating employee communications frees up time to work on other tasks, like planning. In addition, a messaging platform with personalization capabilities can tailor messages to each employee based on their interests. If you know some people enjoy the arts, you can segment that group of employees to inform them about the art space. If you know there are employees who are health fanatics, they might be most interested in the Fit-N-Fun activities. You can even go as far as distributing these messages based on your employee's preferred mode of communication like text, email, or push notification.
Suppose you're not sure which activities your workforce would enjoy most. No problem, the same platform could distribute a pre-event survey to gather ideas on what employees would like to see most. After the event, a post-survey on what festivities they enjoyed most helps plan for next year.
You can even automate messages from managers and office leaders, so HR isn't the only one getting employees psyched for the fun Before the event, you can share scheduled activities, and after the event, pictures of the team together.
If you're interested in celebrating more special occasions in the workplace, check out Evive's blog about Employee Appreciation Day, which takes place the first Friday in March.