Last week, I had the privilege of co-presenting with behavior scientist and New York Times bestselling author BJ Fogg at Evive and Executive Networks' webinar, "Maximizing Managerial Impact." In this engaging session, Dr. Fogg presented his behavior change methodology's tenets — including how managers can use carefully-crafted, well-timed prompts to bring key aspirations around team-building and good communication practices to life. I followed up with food for thought on how automated messaging technology can deliver these prompts at scale within organizations.
Here's a brief recap on the four managerial aspirations we explored (and why they significantly matter in today's remote workplace):
Providing consistent feedback
Why it matters: In Evive's Employee Journey Survey (conducted in late 2020), we found that more than half of employees (55%) received a formal performance review once a year or less often. Yet, it's common knowledge that employees want more regular feedback from their managers. Whether good or bad, employees want to know how they're doing and how they might improve. (Curiosity is just human nature.)
How to prompt it: For individual managers, pick a convenient day of the week and schedule a 15-minute time block simply to evaluate whether or not you've provided meaningful feedback to all direct reports in the past five days. "Feedback Fridays" works well here as a theme.
Supercharging the prompt: For organizations looking to drive this managerial habit at scale, use your communications platform to segment an audience of managers — then set this "Feedback Fridays" reminder for them, delivering it through their elected communication preference (whether that's a push notification, text message, or email). Better yet, can your platform mine HRIS data to populate a helpful "direct reports roster" for each manager?
Establishing personal connection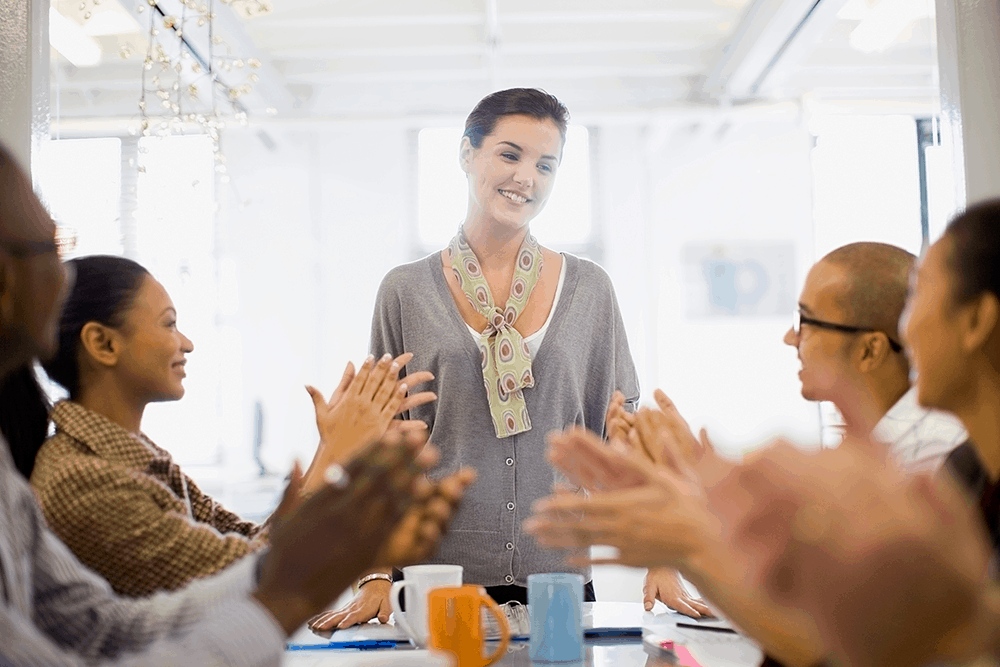 Why it matters: Evive's same survey found that nearly 1 out of 3 employees are neutral on the idea or disagree that their manager knows them well as a person—not just an employee. (That number's already high, but it would probably skyrocket if we had only surveyed information workers hired during the pandemic. Most have yet to meet their managers in person at this point.) Fortunately, one way to approach this issue is through simple recognition of employee milestones, including birthdays and work anniversaries. These are conversation starters that open the door to more personal connect-building over time.
How to prompt it: For individual managers, this is another exercise in building a robust suite of calendar reminders. Start by adding in your direct reports' birthdays. (Try scheduling a reminder for the evening before so you can even take the approach of: "Happy Birthday Eve!" when it makes sense). Then, get a little creative by doing the same for work milestones. Not just yearly anniversaries, but 1-month, 3-month, and 6-month anniversaries for new employees (or employees who have changed roles). This level of detail provides more opportunities for touching base—and it's a touch point that won't go unnoticed.
Supercharge the prompt: It takes a little sweat for managers to build out this kind of calendar—and what's more, for these reminders not to get swallowed up in a sea of heavy meeting days and other alerts. So, at an organizational level, consider replacing that sweat with software: can your communications platform ingest HRIS data to deliver the same prompts at the same level of specificity to individual managers, in a way that will break through the clutter and stick out to them (push notification, text message, or email)?
Checking in on wellbeing
Why it matters: Mental health and well-being has dropped 33% since the start of the pandemic. Meanwhile, the remote workplace (coupled with Zoom fatigue) has greatly diminished the transmission of social cues. Social cues help managers know when—and whom—to reach out with a "how are you and how can I help?"
How to prompt it: For individual managers, add this check-in to your 1:1 checklists. But, beyond that, think about ways to make this feel more organic to the recipient—and less of a box-checking behavior. Can you prompt yourself at regular intervals (but slightly more random dates and times) to check-in?
Supercharging the prompt: This is where a smart communications platform really shines. Once again, HRIS data provides the critical building blocks of identifying an audience of managers, building them a checklist of their direct reports, and delivering them a prompt to act via the mode they've elected. But now tech actually helps provide that organic spontaneity by sending this prompt at random dates and times. Even while adhering to a rough weekly cadence.
Sharing regognition
Why it matters: Despite a surfeit of kudos software on the market, Evive's Employee Journey Survey found that more than 1 out of 3 employees are not in agreement that their company has a good system for showing thanks and recognition. Systems aside, individual managers can rectify that perception by regularly sharing individual successes through emails to leadership. Or even shoutouts on corporate social.
How to prompt it: Whether it's expense reports or other housekeeping, you probably already have time blocked for end-of-month tasks. Add "employee evaluation" to the top of that checklist. Who performed exceptionally well or put in extra hours? What big projects were wrapped? (If you're struggling to find someone to recognize each month, call a direct report for a suggestion. They see things you don't.)
Supercharging the prompt: Again, organizations can empower this valuable behavior at scale, prompting every manager with the information they need to make this an easy task. Imagine this works too well and leadership is bombarded with emails at the end of every month and your corporate social is flooded with merry messages. An innovative system learns from that engagement and strategically staggers such messages across the organization, creating a steady drip of kudos.
Whether you're looking to experiment with these ideas at an individual level or jump to the supercharging stage with Evive's automated messaging technology, we'd love to talk about your experience in communicating within a remote workplace and the strategies you're developing for later this year.