Throughout the years, trends in human resources have continually changed to reflect the ever-evolving workplace and 2021 was no different. The impact of the pandemic, Great Resignation, and evolving -talent landscape has led to a wave of changes in our lives, relationships, and what matters to our colleagues.
Even the CHRO's role has dramatically evolved to support the future of work, employee engagement, and a positive culture.
With the help of our team, we compiled a list of the biggest trends in human resources for 2022. Let's take a look.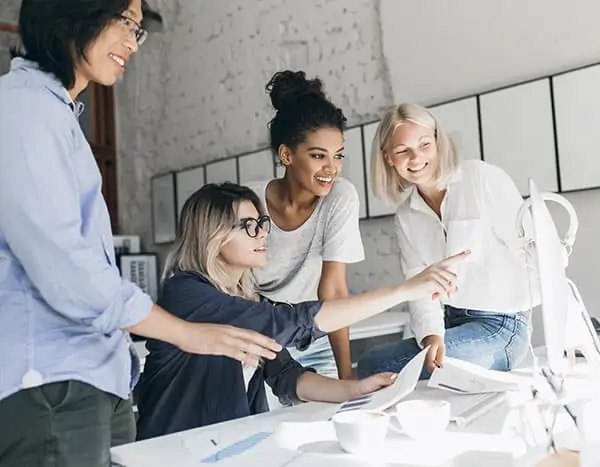 Ending the 'Great Resignation'
Workers are quitting their job in record numbers. More than 4.4. million American workers exited in September, according to the latest data from the Bureau of Labor and Statistics. Why? Poor treatment at work, need for more flexibility and better work-life balance, higher wages, safety concerns, etc. I know. You may have heard it all before.
However, in response more and more organizations will start listening to employees to better understand their needs, expectations, and motivators in 2022. Organizations that attentively listen, respond, and encourage feedback create a culture where employees feel engaged, heard, and want to stay. Employers must demonstrate to employees that their voice matters by sharing their organizational goals and priorities, gathering honest and open feedback, and keeping lines of communication open. If employees feel uncomfortable sharing what's on their minds, use pulse surveys to gather their thoughts, hold one-on-one meetings where employees can freely share their opinions without being surrounded by their peers, or use small groups to collect ideas to strengthen the workplace culture. Leaders who listen to employees and apply new solutions make them feel understood, valued and are more likely to keep talent.
Empathy to Create a Great Company Culture
While good listening skills will help end the Great Resignation, so will empathy. And, that must start at the top. Employees want to work for an organization that understands them, their scenarios (family life, mental health, etc.), and their needs. An unanticipated result of the pandemic has been more empathetic leaders in the workplace that care about their employees more so than their revenue figures. Organizations have worked hard to break down barriers between leaders, managers, and employees, understand cultural differences and shifting demographics, and create a more empathetic culture.
Moving forward, we'll see organizations trickle down the ability to embrace empathy as a value, offering training and teaching staff to have more compassion for others' feelings or experiences. Leaders will talk less, listen more, and gain more confidence to be more vulnerable in the workplace. We will also see organizations create special interest groups built on communications and listening, more transparency from senior leaders, and automated technology to track who employees engage with the most and who is left out to ensure that employees are included and involved.
Incorporate DE&I for a Confident, Happy Workplace
Everyone is talking about diversity, equity, and inclusion today, and for a good reason.
According to Evive's latest National Employee Journey research, a whopping 96% of employers say DEI is important. Organizations will go beyond just the basics in 2022 and work diligently to even the playing field for equal access to opportunities, career advancement, salary and benefits, support, and rewards. Furthermore, organizations that approach diversity holistically and strategically, and change business processes to reflect society more accurately will create a more inclusive environment where employees feel safe and respected, resulting in improved performance.
Benefits can Improve a Multigenerational Workforce
Today's multigenerational workforce presents many challenges, but most organizations are focused on managing the workforce, dispelling stereotypes, and encouraging cross-collaboration. However, a lot of companies are missing opportunities to focus on benefits.
In 2022, organizations will adopt a cross-generational approach to their benefits selection. When employees were asked to rank those benefits employees would like to see, they differed across generations.
Baby boomers – Four-day workweek, identity theft protection, flexible hours, financial planning and fitness perks
Gen X – Four-day workweek, flexible hours, fitness perks, student loan assistance and financial planning
Millennials – Four-day workweek, flexible hours, fitness perks, student loan assistance and tuition reimbursement
Gen Z – Four-day workweek, student loan assistance, financial planning, Employee Assistance Program (EAP)
Organizations that want to cultivate an engaged and effective multigenerational workforce must go beyond different communication styles and work practices and start thinking through a diverse basket of benefits to ensure all employees are empowered and invested in the organization.
Benefits Employees Want
The standard for employee benefit packages continues to inch higher. Between a more diverse workforce, supporting remote workers, and prioritizing well-being, mental health, and financial wellness, this year is no different. In 2022, more employers will implement financial wellness programs that equip employees with more confidence and knowledge to manage finances, pay back student loan debt, and plan for unexpected expenses and retirement goals.
In addition, employees are still experiencing high levels of stress, anxiety, and depression from the pandemic. Employers will continue to add a diverse range of benefits that have a meaningful impact on employees, whether emotional well-being support, flexible schedules, or employee assistance programs (EAP's).
The result will create a happy workplace, improve retention and reduce healthcare costs.
Master Personalization with One Integrated Platform
With the work HR has done to purchase better medical plans for employees, as well as numerous point solutions, 2022 is the year that those benefits get used. But employees won't seek them out themselves—they'll need help. A one-stop-shop platform that can aggregate all the point solutions and drive personalized engagement will come out on top.
An all-in-one platform has everything HR needs to provide employee-centric solutions. Imagine offering relevant resources to help employees utilize their well-being benefits, sharing leadership development opportunities for those who are interested in management, or sending out reminders to a manager about a new team member's end of week one check-in.
Employees Choose their Preferred Mode of Communications
For a personalization platform to excel, it needs to communicate with employees based on their preferred mode of communication – especially in a multigenerational workforce where people have different needs and preferences.
According to Evive's research, two-thirds of employees (66%) surveyed said they received mass emails from their employer. Only a small percentage of employees received personalized emails (18%), 8% of communications came from a communications platform, 6% via text/SMS and 2% via push notification.
Generic emails distributed to the entire workforce are often irrelevant and ubiquitous. Employees consider it nothing more than spam and place it directly into the trash – impeding productivity, throttling success, and breeding widespread dissatisfaction.
For organizations to ensure transparency and communicate seamlessly to employees based on their preferred communication method, engagement platforms can send personalized messaging to the right employee at the right time of day or share relevant content to a set of employees. The same platform can use behavior triggers and multimodal messages to optimize action.
Drive Employee Engagement, Personalization Using the Power of Data
The purchasing ease and efficiency of today's technology has set a new bar for delivery, allowing integration, scalability, and data analytics unavailable just a few years ago.
Data is the foundation to creating a better employee experience, increasing productivity, and retaining top talent. Yet, most organizations are still not data-driven. In the 2021 NewVantage Partners executive survey, only 24% of respondents said they had created a data-driven organization.
To meet the individual needs of employees, organizations need to commit to embracing data.
Data empowers organizations to make solid operational decisions, identify employee skill gaps, or reward and recognize top performers. HR analytics help identify segments of employee populations that require messaging specific to that audience, determine when employees might need a little motivation, or further personalize the employee journey.
In addition, data can also help direct employees toward a desired outcome such as benefits enrollment or analyze the performance of benefit offerings, provide hidden talent insights, automate reminders for employees to schedule medical screenings, or proactively offer financial resources.
Employers that leverage, utilize, and integrate data for personalization and decision-making will improve their bottom line, build a long-term competitive advantage, and significantly impact employee engagement and satisfaction.
Additional Information about Trends in Human Resources
For more information on Evive's 2022 trends in human resources, latest research, or to learn more about engaging your workforce, check out our resources section here. You can also view the trends in human resources press release here.