Think for a moment about your entire benefits ecosystem. Several vendors provide care for your employees—from health plans, to onsite clinics, to centers of excellence. Some of them have help lines with customer-service representatives (CSRs) to help your employees get the most out of their benefits. Whether it's an advocate at an EAP, a nurse manager at a disease management program, a general benefits administrator, a pharmacist at your PBM…the list goes on and on.
How do you make sure each employee interaction with these resources is not merely transactional, but something more meaningful? How do you make sure your ecosystem is truly delivering in sync? Better yet, wouldn't it be great if all physicians at various medical groups seeing your employees had a view of all the programs you offer to improve your employees' health and well-being?
We see an opportunity to apply a data-driven solution to enhance the employee-resource interaction, provide a single source of truth to all, and knit together your ecosystem in a way that creates better experiences and outcomes for everyone involved.
The power of a comprehensive view
Evive 360 is a holistic view of the entire benefits landscape surrounding each employee that promotes collaborative care across all resources. Think about it from the perspective of a CSR or care provider: If you can see information about the individual, their previous health history, the programs they've utilized, the kinds of benefits communications they've received, and the recommendations for them, you're better positioned to have a meaningful interaction. Instead of simply answering a question and being done, more opportunities can be addressed. What would have been a one-off transaction turns into a productive conversation.
The "360-degree" interface was built to ensure the intelligence of big data and the reassurance of human interaction could work hand in hand. It delivers that comprehensive view directly to the vendors your employees are going to for help, giving them one source of truth. While each vendor and care provider is independent, the interface makes sure they are in sync, centered around the patient and delivering collaborative care.
For example, a member may call with a question about her deductible and end up learning she could also be contributing more tax-free dollars to her HSA. Another person might visit the onsite clinic for a flu shot, and the nurse practitioner at the clinic would see he's due for a routine cholesterol screening—or perhaps that he hasn't been using his blood pressure cuff from his disease-management program. Maybe another member has a question about his medication and calls a PBM, and also gets a friendly nudge to engage with the diabetes-management program available to him for which he hasn't signed up. No matter the scenario, the representative (whether it's a care provider or a CSR) has the right information at hand to guide the conversation toward increased benefits engagement and better outcomes.
Benefits all around
With a complete view of an employee's benefits, including their interactions with those benefits to date, vendors gain a more vital role in your organizations' ecosystem. They're no longer just providing a service—they're providing a critical touchpoint in ecosystem engagement.
With this experience, employees get more valuable insights at the most important times. Having another reminder available to them means their chances of engaging with their benefits goes up. And, of course, this holistic approach pays off for employers. They get more value out of the benefits in which they've invested, while helping their employees reach their goals in the areas of health, wealth, and work/life success.
The improved view benefits everyone.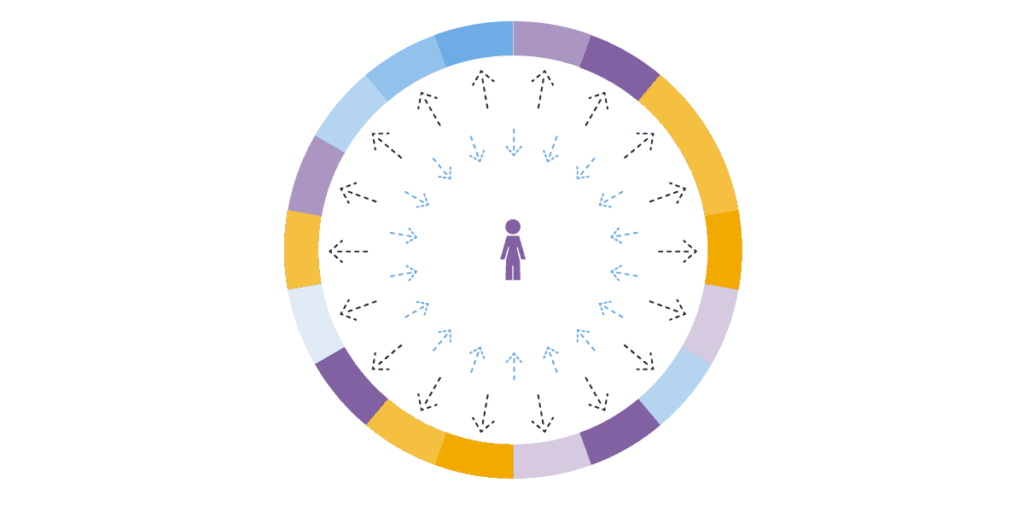 Data intelligence continues to make a difference
t's common to search for a new vendor when trying to solve a specific problem. However, adding more vendors without applying an integrated approach is likely to lead to more fragmentation, rather than collaboration. That's why we're committed to fueling new solutions with robust capabilities that enable patient-centric, collaborative care.
Evive 360 supercharges the vendors you are already paying for and have integrated into your organization, and it empowers care providers with a single source of truth. A more complete picture of the benefits offerings and your employees' interactions with them presents an easy way to collaborate—all without employees having to learn about every one of your benefits, or you having to devise a new business process to coordinate with others in your ecosystem.
The result? A resourceful, seamless way to provide a richer experience for vendors, employees, and employers. Contact us to learn how Evive 360 can support your workforce while adding value to the benefits you already offer.