Over the past year, we listened to our clients at Insight Summits and other events, and consistently heard that benefits professionals were ultimately in a quest for three main goals:
Delivering a better experience
Containing cost
Reducing risk
In order to reach these goals, employers have many different systems that need to work together: various administrative systems of record (SOR) like ben admins, health plans, and HCM or HRIS systems; as well as systems of engagement (SOE) like HR portals, intranets, email, call centers, clinics, and a number of specialized vendor programs that engage users directly. However, the goals have remained elusive. Healthcare costs have been consistently rising faster than inflation, employee experiences still leave a lot to be desired, and the risks—health, financial, and most importantly, data breaches—have increased.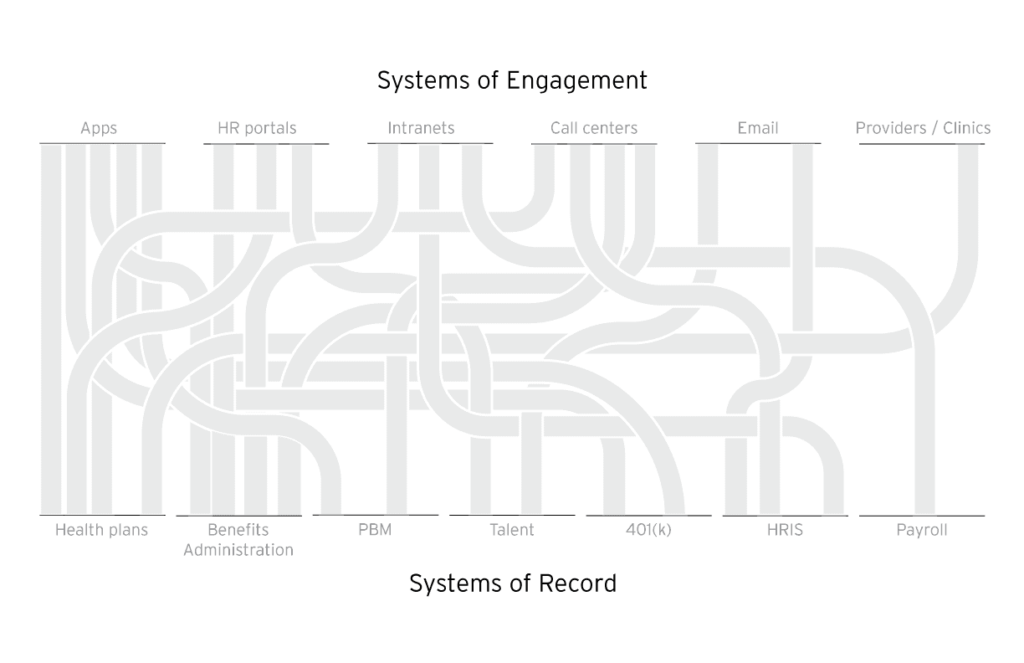 What has been missing is a system of intelligence that leverages data from the SORs and SOEs, and applies predictive analytics and recommendation engines to optimize the experience and deliver the desired results. This system would need to be the foundation of data-driven guidance and the single source of truth—we built this system and termed it the Evive Operating System (or eOS).
Just what is this eOS?
eOS is the technology platform that integrates data from multiple systems of record, recognizes patterns across disparate data sets, personalizes the recommendations, and frames it using behavioral science to meet consumers where they are based on their personal needs.
The carefully built infrastructure of eOS was designed to meet the stringent data-governance standards for the enterprise. It allows us to develop insights by pulling from any data source, integrate with unique ecosystems to engage people in meaningful ways, meet world-class security requirements, and deliver desired outcomes. No matter the problem, eOS fuels the solution with top-tier technology, performance, scalability, security, compliance, and results.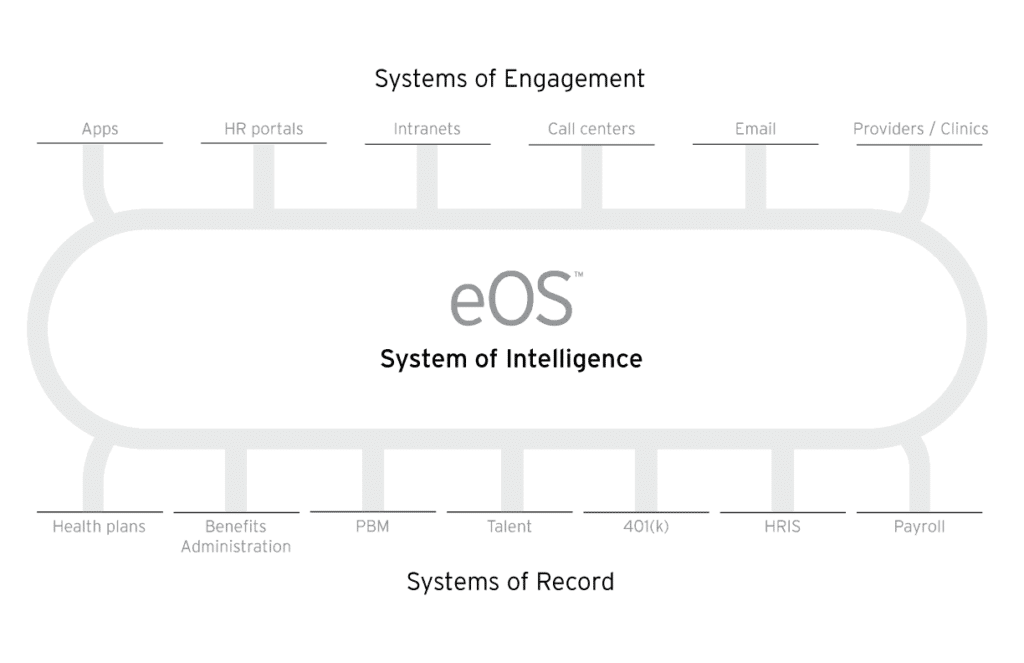 How does eOS drive better experiences, contain costs, and reduce risk?
Recommendation engines within eOS connect people to their benefits at the times they need them most. eOS reconciles things like the complexity of choosing a health plan; navigating the numerous point solutions within the benefits ecosystem; missed opportunities for steerage at concierges, clinics, and centers of excellence; poor returns from well-being initiatives; and the lack of support for locating nearby, quality providers. These insights are packaged into solutions like Evive Plan Choice, Evive Inside, Evive 360, Evive Rewards, and Evive Best Match.
Better experiences
Personalized benefits recommendations (Evive Inside) power your HR portal, intranet, or HRIS interfaces, while Evive 360 gives your third-party benefits providers highly secure, configurable access to employee profiles, benefits plans, and recommendations for next best actions. Together, these deliver a streamlined, curated user experience across all channels, driving awareness for your employees and increasing utilization of the benefits programs. For employers who feel their many systems of engagement create confusion around where to get access, that access can be consolidated within Evive's navigation hub: the MyEvive mobile app, a seamless digital experience powered by Evive Inside recommendations.
Containing costs
Evive Inside drives increased utilization of cost-saving programs, such as diabetes management and expert medical opinion services, as well as increased preventive care to help avoid costly catastrophic episodes—all reducing costs of health benefits. When the time comes for open enrollment, Evive Plan Choice is embedded within your annual enrollment flow to drive more cost-effective plan adoption. Additionally, employees can use Evive Best Match for guidance on finding care that is of the highest quality and lowest cost, driving them to the right provider and site of care for their circumstances.
Reducing risks
Evive Rewards drives personalized activity recommendations for each individual, which helps reduce health and financial risks. Employers now have the ability to target programs to users, reward healthy behavior, and analyze results in a secure, compliant framework.
The eOS platform and its APIs enable the employer to have a single source of truth for all of their benefits partners, as well as analytics on ecosystem performance. eOS recommendations draw from aggregated user data, claims data, vendor data, and any other external data sources that may be relevant to an employer's benefits ecosystem. Evive's HITRUST CSF Certification speaks to our promise to mitigate risk that is unique to healthcare, and to protect that sensitive information—including privacy rights—at all times. Our industry-leading framework ensures eOS can do its work safely and effectively.
Without a system like eOS, information about all employees and family members can get sent from the system of record to the vendor partner, creating a large data footprint at each vendor—even though they may only interact with a small number of individuals (say, those with sleep apnea or diabetes). But with eOS, when the individual interacts with the vendor application, eligibility is verified in real time just for that program. Only "minimum necessary" information is exchanged to keep the experience seamless for the member and to significantly reduce data-breach risks.
A critical element of eOS is making sure it provides that data-driven guidance in smart, protective ways. Employers should feel safe as the data fiduciary for their organization with eOS delivering "security and privacy by design and by default."
A new way of thinking
eOS is providing the foundation to tackle any issue with data-driven guidance, and it's equipped to measure the outcomes with meaningful metrics. It's the system of intelligence: the missing link that powers solutions like Evive Inside, Evive Plan Choice, Evive 360, Evive Rewards, and Evive Best Match, which enable a better experience, cost containment, and reduced risks.